Hair, Skin & Nails Formula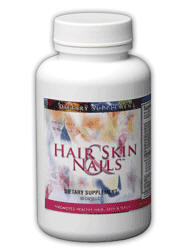 Do you want strong, natural nails? Do you long for the shine and bounce of healthy hair? Do you aspire to have smooth, glowing skin?
This product is formulated specifically to support healthy looking skin, hair and nails from the inside out by providing the nutrients your body needs to build and rejuvenate itself.
---
Promotes Healthy Hair, Skin & Nails.
---
Amount Per Serving
% Daily Value
Vit A (as Retinyl Acitate)
5000 IU
100%
Vit C (from Calcium Ascorbate)
120 mg
120%
Vit D (as cholecalciferol)
100 mg
25%
Thiamin (as thiamine hydrochloride)
5 mg
333%
Riboflavin (as Riboflavin)
5 mg
294%
Vit B6 (as Pryodoxine Hydrocloride)
10 mg
500%
Niacin (as Niacinamide)
20 mg
100%
Folate (as Folic Acid)
200 mcg
50%
Vit B12 (as cyancobalamin)
20 mcg
333%
Biotin
2 mg
666%
Pantothenic Acid (from Calcium Pantothenate)
20 mg
200%
Methlysulfonymethane (MSM)
700 mg
**
Propriety Silica Complex

Silica (from silicon dioxide)
Silica (from horse herb extract)
Silica (from bamboo extract)
Silica (magnesium trisillecate)

40 mg
**
Choline (from choline bitartrate)
20 mg
**
Inositol
20 mg
**
L-Methionine
20 mg
**
Para-Aminobenzioic Acid (PABA)
20 mg
**
Other Ingredients: Gelatin capsule (gelatin & water) and gelatin
Wholesale Member price: $22.500
Take 2 Capsules Daily.


Bottle Contains 60 Capsules

Serving Size: 2 Capsules

Servings Per Container: 30



---

Wholesale: $22.50
Code #: 50241
Shopping Cart
---
Hair, Skin & Nails Formula
Wholesale Member price: $22.50
Retail: $22.50