Noni + +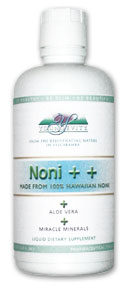 No where will you find the combination of the healing fruit of Hawaiian Noni and the healing plant of Aloe Vera and 13 Chelated Minerals, all in one beverage... Noni ++.

Islanders have used Noni to heal their body, mind and spirit. Research now shows it deserves its reputation for making people feel healthier overall. Studies have concluded Noni supports the Circulatory system, tissues and cells and can act as a superior antioxidant that helps rid the body of harmful free radicals. It also increases energy levels.

Aloe Vera, the healing plant, has been used to enhance and support health for thousands of years. Today, research has studied its positive effects in aiding digestion, improving immune function, and supporting healthy cell proliferation in skin, liver, nerve and blood cells.

• Immune support
• Joint support
• Digestive support
• Helps boost free radical absorption
• Supports collagen production for better
looking skin

Wholesale Member price: $30.00
100% Hawaiian Noni, grade A+ Aloe, and Vilcabamba, all in one beverage!
---
Bottle Contains 1 Liter
(33.8 fl. oz.)
Serving Size:
Standard: 8 oz.
Suggested: 1 oz.
Servings Per Container:
Standard: 4
Suggested: 32
Supplement Facts:
Click here to download (PDF File)
Wholesale: $30.00
Code #: 50307
Shopping Cart
---
Noni + +
Wholesale Member price: $30.00
Retail: $44.50